Classroom Applications of 21st Century Skills (English)
21st century learning is providing curriculum and instruction designed to engage this generation of digital-native students. Learn how 21st century skills can be implemented into the classroom to add critical thinking, collaboration, and complex curriculum through an interdisciplinary, integrated, project-based approach.
Beth Andrews, M.A., is the GATE Coordinator for the Irvine Unified School District and is the Orange County Educator Representative for California Association for the Gifted. She has worked with gifted learners for 26 years and has served educators of gifted learners as a mentor teacher, GATE consultant, coordinator, author of curriculum, and teacher.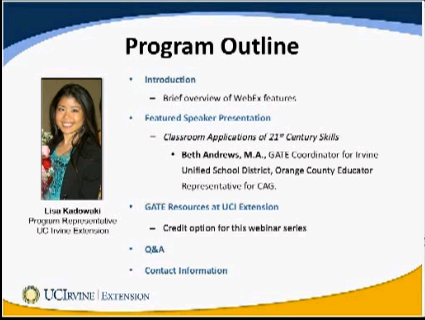 Classroom Applications of 21st Century Skills
is licensed under a
Creative Commons Attribution-ShareAlike 3.0 Unported License
.
Provide a Testimonial