Guantanamo & the Law & Politics of U.S. Detention Policy (English)
The International Studies David Kaye is the executive director of the UCLA School of Law International Human Rights Program. He teaches international human rights and directs an International Human Rights Clinic. For more than a decade, David Kaye served as an international lawyer with the U.S. State Department, responsible for issues as varied as human rights, international humanitarian law, the use of force, international organizations, international litigation and claims, nuclear nonproliferation, sanctions law and policy, and U.S. foreign relations law. He was a legal adviser to the American Embassy in The Hague, where he worked with the international criminal tribunals and acted as counsel to the United States in several cases before the International Court of Justice and the Iran-U.S. Claims Tribunal. From 1999-2002, he was the principal staff attorney on humanitarian law, handling issues such as the application of the law to detainees in Guantanamo Bay and serving on several U.S. delegations to international negotiations and conferences. The State Department honored him with four of its prestigious Superior Honor Awards.

David has taught courses in international law and human rights at Georgetown University and Whittier Law School. He has also written numerous articles and book chapters in the area of international human rights, and has published essays and op-eds in such publications as The New York Times, The Los Angeles Times, International Herald Tribune, Foreign Policy, Middle East Insight and The San Francisco Chronicle.

Before law school, David did freelance writing from the former Soviet Union, examining the impact on minority communities of the dissolution of the USSR and the independence of the states of Central Asia. During the first Gulf War, he worked in Washington with a leading Middle East think tank.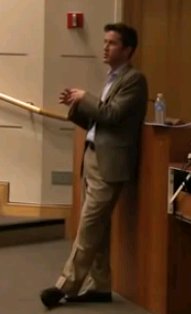 Author:

Title:

Assistant Clinical Professor

Department:

Law
Getting Some Closure: Guantanamo & the Law & Politics of U.S. Detention Policy
by
David Kaye
is licensed under a
Creative Commons Attribution-Share Alike 3.0 United States License
.
Provide a Testimonial