Supreme Court Term in Review, (October 2011 term) (English)
UCI School of Law hosted its second annual Supreme Court Term in Review program at the law school on Tuesday, July 17, 2012.
A panel of distinguished scholars and journalists discussed the highlights of the October 2011 term, which concluded in June with the ruling on health care. The panelists are Dean Erwin Chemerinsky and Prof. Jennifer Chacon of UCI Law, Prof. Robert Pushaw of Pepperdine University School of Law, Marcia Coyle of the National Law Journal and PBS News Hour, and Jess Bravin of the Wall Street Journal. The panel will be moderated by Prof. Rick Hasen of UCI Law.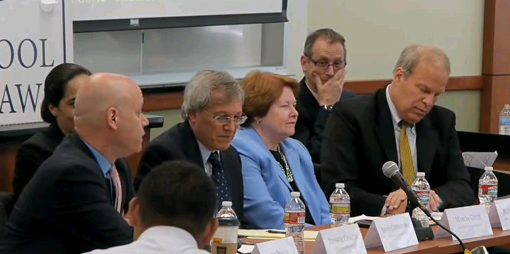 Author:

Title:

Dean

Department:

Law
Author:

Jess Bravin

Title:

Assistant

Department:

Anthropology
Author:

Title:

Professor

Department:

Law
Supreme Court Term in Review, (October 2011 term) is licensed under a
Creative Commons Attribution-ShareAlike Unported 3.0 License
Provide a Testimonial