The Costs of Exclusion: How Gender Inequality Stymies Global Development (English)
Public Health Seminar
The Costs of Exclusion: How Gender Inequality Stymies Global Development
October 17, 2016
This talk focuses on various manifestations of gender inequality and how these translate into social and economic costs. Key forms of inequality discussed include intimate partner violence, early and forced marriage, discrimination based on sexual orientation or gender identity, and access to justice.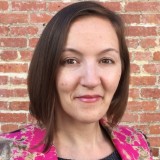 Author:

Title:

Director, Global Program on Violence, Rights, and Inclusion

Department:

Public Health
This work (The Costs of Exclusion: How Gender Inequality Stymies Global Development by McCleary-Sills, Jennifer) is licensed under a
Creative Commons Attribution-ShareAlike 3.0 United States License
.
Provide a Testimonial