Urban Mining and Disease Burden (English)
Recorded on October 13, 2014.
One Troy ounce (31 grams) of gold now sells for ~ $1,200 on the open market. The annual production of electronic products worldwide requires more than 300 tons of gold and more than 7,500 tons of silver, with a combined value of $21 billion. Currently, less than 10% of these precious metals are recovered. High prices have encouraged the phenomenon of urban mining, but they don't begin to cover the cost to human health and the environment. Electronic waste (e-waste) is currently a global predicament but it has a vanishing future. This assessment is based on the convergence of initiatives to intensify research, regulations and remediation efforts at the national and international levels. On October 1st 2013 the landmark Safer Consumer Products Regulations came into effect in the Sate of California. This law aims to eliminate or drastically reduce the levels of toxic chemicals in consumer products, including electronic products that generate the fastest category of hazardous solid waste worldwide. This California law joins similar regulations in Europe and Asia that have addressed the manufacturing of electronic products and the management of e-waste. We will explore case studies from recent research on hazardous chemicals in electronic products to reveal opportunities for research on the health and environmental impacts of e-waste, the convergence of national and international regulations on e-waste management, and for remediation using the principles of green chemistry and alternative assessments to support the strategic Selection of Materials to Achieve Reduced Toxicity (SMART) products and processes.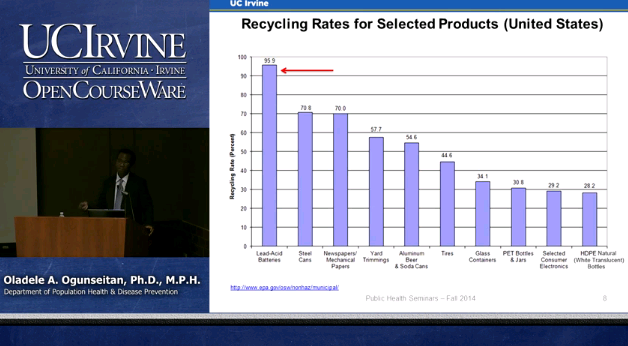 Author:

Title:

Professor

Department:

Population Health and Disease Prevention
Urban Mining and Disease Burden
by
Ogunseitan, Oladele
is licensed under a
Creative Commons Attribution-ShareAlike 3.0 United States License
.
Provide a Testimonial