ESS 280A. Lecture 03. Special Topics in ESS: Biodiversity and Ecology (English)
UCI ESS 280A: Special Topics in Earth System Science (Fall 2013)
Lec 03. Special Topics in ESS -- Biodiversity and Ecology
View the complete course:
http://ocw.uci.edu/courses/ess_280a_special_topics_in_earth_system_science.html
Instructor: Diane E. Pataki

License: Creative Commons CC-BY-SA
Terms of Use: http://ocw.uci.edu/info.
More courses at http://ocw.uci.edu
Description: Each quarter is devoted to current topics in the field of Earth System Science. Topics addressed vary each quarter. For this course, topics discussed include: climate change, biodiversity, demographics, transportation and urban systems, cost-benefit analysis, negative impacts on the environment, environmental policy, and sustainability.
Recorded on October 13, 2010.
Required attribution: Pataki, Diane E. Specail Topics in Earth System Science 280A (UCI OpenCourseWare: University of California, Irvine), http://ocw.uci.edu/courses/ess_280a_special_topics_in_earth_system_science.html. [Access date]. License: Creative Commons Attribution-ShareAlike 3.0 United States License.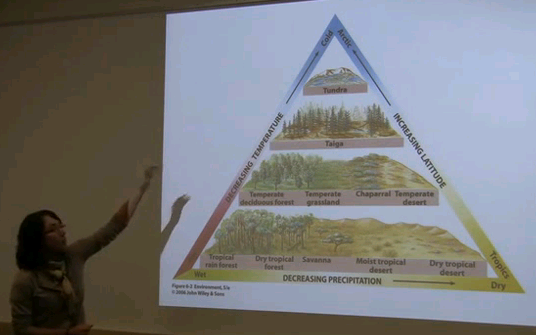 Author:

Title:

Associate Professor

Department:

Earth System Science
Biodiversity and Ecology
by
Diane Pataki
is licensed under a
Creative Commons Attribution-ShareAlike 3.0 Unported License
.
Provide a Testimonial